Want to compete?
REGISTER AS A PLAYER
REGISTER AS A REFEREE
If you would like to compete in this Circuit Event, sign up or contact us to find out more information.
Email
Our Players Will Enjoy:
Pool Play Games (at least 4)
Cash Prizes for Top 4 Teams
Social Events FRI & SAT Night
Competitive Kickball
Post-Game Festivities
Connect with us:
Compete with the Best in Florida!
The South Florida Kickball Open (SFKO), presented by Ultra Co-Ed Sports, is a Circuit Event, open to kickball teams from all over the world. Teams do not have to be invited nor otherwise qualify in order to take part in the tournament – any kickball team can register to play. The only requirements are that teams must field 10 players with at least 4 female members, and all team members must be at least 21 yrs or older on the day of the tournament.
By competing in this tournament you will have a chance to qualify for The Circuit Cup Championship 2013 in New Orleans for $10,000!
Questions? E-Mail Us.
Please let us know if you need us to answer a question about this Circuit Event. You can reach us by emailing sales@kickball365.com.


What to expect at this event?
When attending this event you should expect a few things: an awesome time, a chance to meet a lot of kickballers from across the country, the toughest competition in the sport, and a good tan!
Can anyone compete in this event?
Yes, anyone who is 21+ years or older.
What rulebook is used for this event?
The Official Kickball365 Circuit Rule Book is used for this event. You can view the rule book here.
Does this event have a web site for more information?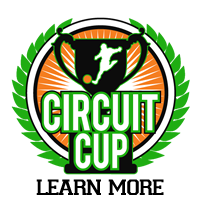 What is The Circuit?
The Circuit is a series of open tournament events supported by Kickball365 to bring together the ultimate competitive adult kickball teams in America. Kickball365 is not your daddy's country club. We are the home for kickball competition in America. The Circuit is the only national, professional tour of top-flight, competitive kickball tournaments. Our tournaments are one-of-a-kind vacation experiences where any team can compete to win over $20,000 in cash prizes.
What is The National Tour of The Circuit?
The National Tour is the series of Circuit Events held in a given year, in which registered teams compete for Circuit Points. The Circuit Scoring System (CSS) awards points to registered Circuit teams to determine eligibility for the Circuit Cup Championship and prizewinners for the year-long CSS Standings. The National Tour is divided into two segments – The Circuit Events themselves and the Circuit Cup Championship. This event is one of those events.
Are there other events on the National Tour?
What is the Circuit Cup Championship?
At the end of the National Tour, the Circuit Teams that qualify will compete in the Kickball365 Circuit Cup Championship. The Circuit Cup Championship offers registered Circuit Teams a chance to compete for a prize pool of awards and cash over $19,000, with the top sixteen (16) teams receiving prize money.
What Scoring System is used?
The Circuit Scoring System (CSS) is used to reward the performance of registered teams at Circuit Events - like this one! We do this in order to establish the pool of eligible competitive adult kickball teams in America for the Circuit Cup Championship. Click here to view the CSS Formula.
Want to learn more?